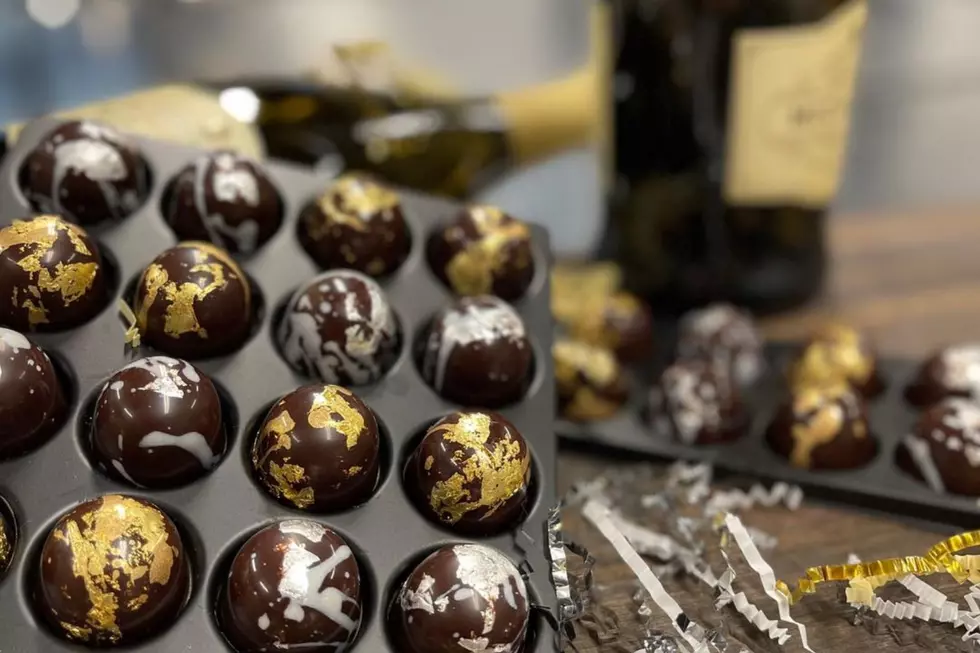 Chocolate Company Based in Boston's North Shore Wows at the 65th Annual Grammys
m cacao chocolates via Facebook
Just saying the word 'chocolate' is enough for anyone's ears to perk up, but when it's based locally or regionally, it's hard not to feel a bit a pride, and gives new meaning to shopping local.
Have you heard of m cacao chocolates, who uses all lower case letters but is now bigger than ever?  Yup, the delicious. luxurious, French chocolates from this Amesbury, Massachusetts, company on Boston's North Shore strolled down the red carpet as part of the official gift lounge for the 65th Annual Annual GRAMMY® Awards.  And when you grab their expressio box you can personalize a video that's embedded inside.  Get it? Express-io.  Love it!  M cacao chocolates invites you to choose your chocolates and then express yourself.
Express your love, admiration, gratitude, support, humor - or anything. It's totally up to you - and so simple. Just upload a personal video or upload images for a slideshow, and you've created an unforgettable (and delicious) gift!
How fun for this mouthwatering company right in our own backyard to launch globally after its debut at the 2023 Grammys.  It's hard not to be excited for m cacao chocolates, who makes its home in quaint Amesbury.
Founder Michael Nichols saw Angela Bassett, Luke Combs, Mick Fleetwood of Fleetwood Mac, Flavor Flav, Ice-T, DJ Jazzy Jeff, Sheryl Lee Ralph, Smokey Robinson, and Salt-N-Pepa, just to name a few. He let their taste buds melt with M Cacao Chocolates where they each made personalized video messages and of course you can do the same, too.  Fun Grammy photos are right here on their Facebook page.
Talk about launching this customized, high-tech chocolate moment in the most incredible way ever.
It was a thrill for us to share this amazing, innovative product with so many all-time great musicians, legends, executives and many others. Guests oohed and aahed over how cool it was for the personalized videos they made on the spot to quickly land inside m cacao's box of culinarily inspired chocolates.
According to m cacao chocolates, their sweet, high-tech gift was Michael's idea.  You see, he is a former robotics engineer-turned-chocolatier. So, he and Master Pastry Chef and Chocolatier Delphin Gomes, who is also a brainchild behind this fun endeavor, had to take advantage of the talents and innovation all the way around.
This New England Covered Bridge is Actually a $17.5 Million House
Listed by Wade Weathers and Meg Kauffman of
LandVest
this is a WOW home in Stowe, Vermont.
Check out these 50 fascinating facts about dogs: