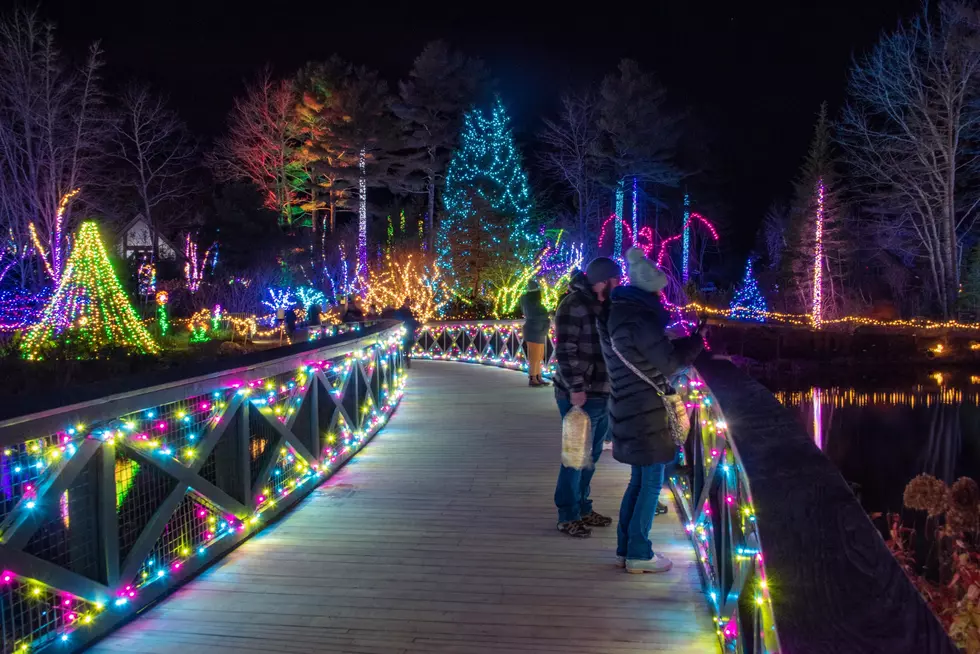 Gardens Aglow in Boothbay, Maine, Named One of the Country's Best Light Displays
Ethos
USA TODAY named the top 10 Botanical Garden Holiday Lights displays in the country, and little ol' Maine made the list.
Coastal Maine Botanical Gardens' Gardens Aglow came in as the third-best light display in the entire country. They've only been around for eight years, and for the last five years have been nominated for this award.
Coastal Maine Botanical Gardens is so proud of this, and they should be. They have such a dedicated staff that design and install the lights every year and it wouldn't happen without them.
Gardens Aglow was voted 4th best in 2021 and 3rd best in 2020, 2019, and 2018. The winners are decided by a popular vote. A garden in Kennett Square, Pennsylvania came in first this year. Whatever. We've got this for 2023!
Gardens Aglow keeps on growing!
Back in 2015 for Gardens Aglow's first year, 30 staff members strung 200,000 LED lights - over 14 miles of lights, laid end-to-end - and the display had more than 36,000 visitors. This year 100 staff and volunteers strung 750,000 LED lights - over 66 miles of lights. There are over 300 lighted sculptures, all created by hand including three moose, a ruby-throated hummingbird, several ducks, geese, a fox, a turtle, two owls, a dragonfly, 250 flowers, and two dozen assorted mushrooms.
They aren't done counting this year, but the Coastal Maine Botanical Gardens expects around 110,000 visitors this year. This is the first time in a couple of years that guests were allowed to walk around the gardens. Covid restricted the gardens to a drive-thru. Which, they did a great job with, but nothing beats walking around and being immersed in all they've done to make this so special.
It takes the Coastal Maine Botanical Gardens team 12 weeks to set up the display and 10 weeks to take it down. You still have time to see the country's third-best garden light display! Hurry get your tickets today!
Check Out The Epic 1,000-Foot Holiday Train Covered in Mesmerizing LED Lights
The Canadian Pacific Holiday Train is back on the rails!